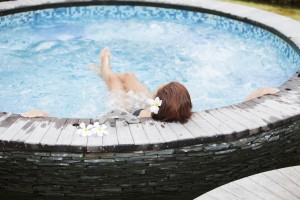 You have an out door spa that you installed in the summer, but aren't getting the kind of use out of it that you were hoping to this winter. All of the snow, bitter cold, and winds have conspired to limit your enjoyment of a luxury you spent good money on. Don't worry though, help is here. Sunrise Pools and Spas has come up with a guide on how to get the most out of your outdoor spa in winter. Don't waste another night indoor under the blankets, when you could be outside in the warm enveloping waters of your outdoor spa under the stars.
Keep a Path Clear
The first and most obvious thing you can do to increase your outdoor spa use in winter, is to keep the spa clear, and keep a path to it clear. By keeping the spa and a path clear, it makes the spa easier to use on a whim.  Where as, if you don't keep it clear you have to do the extra work of clearing a path, and quickly lose interest in using the spa at all. By keeping access to the outdoor spa easy and convenient, it increases the chance that you will use it opportunistically and on a whim when the though strikes you, increasing its overall use.
Plan to Use the Tub
Make using the outdoor spa a regular thing by planning ahead to use it. For example, you can set aside a night, or two, a week to luxuriate in your outdoor spa with a nice beverage and relax. Using your outdoor spa like this will help reduce your stress and give you something to look forward to every week. If you keep it up, it will become a nice relaxing habit that ensures your outdoor spa gets used and you get the luxury you deserve.
Invite Friends Over to Use It
Doing something with your friends is a good way to make sure you do it more often. Inviting friends over to use your outdoor spa gives you a good opportunity to use it and socialize. Invite old friends and reminisce over a steaming bath while snow drifts down around you, or invite coworkers to help make new friends. A outdoor spa makes an excellent social setting for getting to know people and having fun relaxing.
Don't Have a Spa But Want One Now?
If you're interested in buying a hot tub or spa to wait out the winter in comfort and warmth, and want one at an affordable price, then come see what Sunrise Premiere Pool Builders has to offer!
Sunrise Premiere Pool Builders LLC not only conducts Maryland spa, hot tub, and pool installations and renovations but also provides pool services, supplies of automatic cleaners, automatic covers & mesh covers, pumps & filters, Chemicals, Special lighting systems, salt generating systems, heaters, and pool toys. We will transform your pool environment into a private oasis.
If you have any questions about pool renovations or need installments, contact Sunrise Premiere Pool Builders LLC. By calling 410-349-3852 or clicking here today!
Check us out on Facebook, Twitter, Google+, Pinterest, and LinkedIn as well!