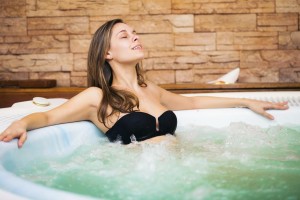 As we've covered previously, a hot tub can be an amazing convenience which Annapolis homeowners can use to kick back and relax in during all seasons. However, even the most advanced hot tubs and spas are bound to run into trouble at some point. Sunrise Premiere Pool Builders is here with some of the most common hot tub problems and possible solutions.
The Heat Isn't Working!
The most common reason an Annapolis hot tub fails to heat up is due to clogged or malfunctioning filters. Before making its way into the hot tub itself, water is pumped through a filter. If this filter is clogged or dirty it can start to absorb the heat of the water, making the water much cooler once it reaches the hot tub itself. Check your filters routinely and if they look dirty, give them a good hosing and application of filter cleaner. Make sure to replace them every two years as well.
Do I Need to Drain My Hot Tub in The Winter?
No. While many Annapolis homeowners drain their tubs while on vacation or during the colder seasons, it is not recommended. Draining a hot tub in winter actually increases the likelihood of freeze damage, while in the summer it could cause a buildup of biofilm. When not using your hot tub just let it run at its lowest setting and keep applying chemicals to kill bacteria.
Why Don't I Have Any Bubbles?
If your Annapolis hot tub isn't producing bubbles, that means that you've got a blockage in the air line, or possibly a bad valve. It's important to have these lines cleared once a year to keep them in good condition. If you're getting bubble but the water is cloudy, you could be getting air without ozone. While a hot tub can function without an ozonator (provided you add a lot of extra chlorine), it's best to get a replacement soon
Need Help With Your Hot Tub?
If you need help repairing your hot tub, or are interested in buying one at an affordable price, then come see what Sunrise Premiere Pool Builders has to offer!
Sunrise Premiere Pool Builders LLC not only conducts Maryland spa, hot tub, and pool installations and renovations but also provides hot tub and pool services, supplies of automatic cleaners, automatic covers & mesh covers, pumps & filters, Chemicals, Special lighting systems, salt generating systems, heaters, and pool toys. We will transform your pool environment into a private oasis.
If you have any questions about hot tub or pool renovations or need installments, contact Sunrise Premiere Pool Builders LLC. By calling 410-349-3852 or clicking here today!
Check us out on Facebook, Twitter, Google+, Pinterest, and LinkedIn as well!