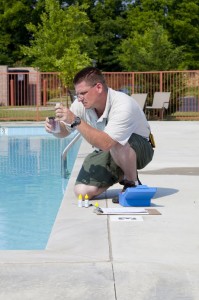 Having an in-ground pool in your backyard is one of the life's greatest luxuries, especially in the hot, Maryland summer months. There's nothing like coming home at the end of a long, grueling day at work and floating around or getting that frustration out by doing laps. One of the biggest drawbacks of having your own pool, however, is performing pool maintenance. It can be extremely tedious and time consuming. Not to mention there's a good deal of knowledge necessary to properly open, clean, disinfect, and close your pool. Sunrise Premier Pool Builders have the solution: professional Baltimore pool maintenance!
How Can Professional Pool Maintenance Benefit Me?
Safety – How much do you know about the chemicals that are supposed to go in your pool? Do you know how much is too much or what can happen if you don't add enough? The chemical composition of your pool is of utmost importance for the safety and health of you and your family. Professionals know exactly how much of a chemical needs to be added and can keep your pool at a safe chemical composition all summer long.
Time Efficiency – Summers are always busy. Just think of how many family functions you've had in July – probably enough that cleaning your pool continually gets moved to the bottom of your list. The professionals at a pool maintenance company regularly dedicate their time to making sure that pools are clean and safe. You'll be able to take care of the 13241235 other errands that you probably have to run while someone else takes care of your pool. That way when you're done with your errands, you've got a clean pool to jump in and relax!
Preventative Maintenance – When you have people who know professional pool maintenance come out to take care of your pool, you can relax knowing that they'll be checking for anything else that may be wrong with your pool. The sooner you know about a problem, the more quickly you can have it fixed. It'll help you to avoid a small problem turning into a big one. Plus, the better care that you take of your pool, the longer everything will last.
Pool Maintenance Packages from Sunrise Premier Pools
Sunrise Premiere Pool Builders can keep your pool looking great with a variety of different maintenance packages.These packages may be offered with or without chemicals, depending on your needs.
Weekly Maintenance
Bi-Weekly Maintenance
Monthly Maintenance
Pool Openings
Pool Closings
Give us a call to discuss the packages in depth and figure out which one will work best for you. If you need assistance with your Baltimore pool, or are looking to build a custom pool or spa, feel free to call us at 410.349.3852 or visit our website.
Be sure to follow us on Facebook, Twitter, and LinkedIn!
Source: Coastline Pools Florida